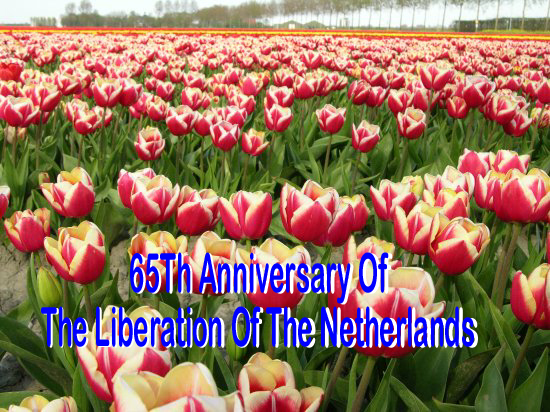 To view videos of the 65th Anniversary Ceremonies and Events click on the links below


65 years ago The Netherlands was liberated mostly by Canadians. The people of the Netherlands vowed never to forget. On May 15 The Dutch Canadian citizens of Canada will again say thank you to their Canadian liberators. We of Southwestern Ontario will thank our Canadian brothers and sisters by holding a memorial celebration at the Cenotaph and Carillon in Victoria park in London, Ontario. We call upon all the Dutch Canadian Community and the Community at large of Southwestern, Ontario to join in the celebration and recognition of our Canadian Veterans.
Please join us in the Carillon and Cenotaph area starting at 10:30 a.m. on Saturday May 15, 2010. The bicycle riders who are participating in the GoGreenGoDutchGoBike event will be arriving at and around this time also. At 11:00 a.m. we will begin the program with the Pipe Band playing and the Amabile Choir singing O Canada. Immediately following the Carillon will play Wilhelmus (The Dutch National Anthem).
To view the full program please click here.
At about 12:15 p.m. we will move the rest of the celebrations to the Dutch Canadian Society Hall where invited guests and those who have purchased tickets will enjoys a luncheon with a variety of entertainment. The GoGreenGoDutchGoBike participants will continue their ride ending at the Dutch Canadian Society where their program will continue and hopefully many will come to join us in viewing the entertainment. For more information about GoGreenGoDutchGoBike please click on the link above or click here.
Harvard Airplane Ride Available
We have three seats available to the highest bidder. Minimum bid is $500. This is a once in a lifetime opportunity while supporting this great event to honour our
Liberators. The ride is from Tilsonburg to London return as part of the event fly over.
Contact Ben Lansink, AACI, P.App, MRICS.
519.645.0750 x24 E-Mail ben@lansinkappraisals.com
Luncheon Menu
Warm food
Peas Soup
Penne Pasta with meat sauce
Cold Food
Assortment of Sandwiches
(Salami, Egg Salad, Salmon Salad)
Cheese Tray
Vegetable Tray
Relish Tray
Salmon Tray
Coffee and Tea
Assortment Desserts
The bar will be open to purchase drinks
Price per ticket is $10.00 including all taxes
For Lunch tickets contact The Dutch Canadian Society 519-670-3466
or the Netherlands Consulate 519-661-0453